Take the Fortune Asian Noodle Blogger Recipe Challenge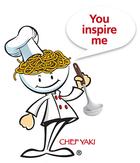 NEW Gluten Free Fortune Noodles…Shelf Stable. Check Out all Four Noodles and Favor Profiles!
SUBMIT YOUR RECIPE:
You must publicly post your final recipe along with photos of your selected Fortune products on your food blog, Facebook, Twitter, Pinterest and Instagram to qualify. You must also include JSL Foods social media links (Instagram, Facebook, and Twitter), website URL (jslfoods.com), when posting your recipe on your blog. You must also tag JSL Foods on all your social media platforms using the hashtags #glutenfreenoodles #cooklikeawokstar and #fortunerecipechallenge.
Please email your original recipe to contest@jslfoods.com, including 3-5 photos (one family shot of all four products) (jpegs) of your finished recipe, along with links to your published recipe and social media posts by the contest deadline. Applicants are responsible for complying with all rules of Facebook, Twitter, Pinterest and Instagram.
We highly encourage you to share your recipes on any and all forms of social media including, but not limited to: Foodgawker, Tastespotting, Tumblr, YouTube, Google+, etc. Please send links to sites where you have shared your recipe to contest@jslfoods.com.