JSL Foods Elevating Fortune Noodles Retail Packaging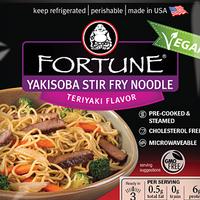 Los Angeles, CA – January 1, 2018, JSL Foods has elevated retail packaging for their Fortune Noodles brand. Packaging meets new FDA nutritional requirements originally set to go in effect July 26, 2018 (formal law has been extended). New laws were developed by the FDA to assist consumers in maintaining healthy dietary practices. JSL Foods has taken this opportunity to update their packaging to create a more uniform family appearance for their Fortune Udon, Yakisoba and Specialty Noodles. New packaging includes a consumer preferred "Facts Up Front" bar for easy communication of product attributes. New packaging is set to be in grocers across the United States November 1, 2017. Wayne Nielsen, VP of Sales and Marketing states "Fortune's new packaging reflects JSL Foods' continued commitment to lead the Noodle category through quality products and effective packaging that supports consumer interest and communication." Fortune Noodles have a National Nielsen share of 82%. Fortune products are Natural, Non-GMO, Cholesterol-Free and MSG free. Options also include Gluten Free.
Supporting healthy eating, JSL Foods produces fresh, refrigerated, pre-cooked Fortune Asian Noodles, Rice Blends and Twin Dragon Asian Wrappers and Asian Cookies. Fortune Noodles are the #1 fresh refrigerated noodle line in the United States. These delicious, authentic noodles are found in the fresh produce section in grocers across the United States.

A third-generation family owned company located in Los Angeles, JSL Foods is looking towards further innovations in bringing restaurant quality products for consumers to enjoy conveniently at home.
Contact Wayne Nielsen at 323-223-2484 or email him at wnielsen@jslfoods.com.