FORTUNE presents the FIRST ASIAN FUSION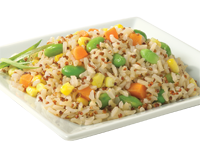 Only Fortune, the industry leader in innovative, fresh Asian side dishes can bring you the first Asian Fusion Pre-Cooked Brown Rice with Quinoa in convenient 8 oz. refrigerated packages.
This delicious rice contains Red Quinoa, Edamame and Brown Rice that fit a healthy lifestyle and is ready in minutes in the microwave.
All natural ingredients give you a serving that is gluten free with no MSG or Trans Fats. On top of all of that goodness, it is also Cholesterol Free and contains 51 grams per 5 oz. serving of Whole Grains.
Try Fortune Brown Rice with Red Quinoa and Edamame tonight -- either alone or make a meal of it by adding your own protein and a few more vegetables.
With FORTUNE ---- Healthy eating just got easier.