Is Asian cuisine the new darling of fast casual?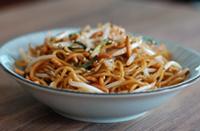 When it comes to fast casual restaurants, it seems there's always a trendy concept grabbing customers' attention. A few years ago it was the "better burgers," then Mexican restaurants got hot, followed by top-your-own pizza chains. These days, Asian concepts seem to be in the spotlight and are growing rapidly.
Technomic found that the 11 fast casual Asian/noodle concepts it profiled in 2012  saw $2.7 billion in sales from 2,273 units. Over the last two years, that represents a 23-percent sales growth and a 14 percent growth in units.
FROM FAST CASUAL.COM
Click for full article:
http://www.fastcasual.com/article/224179/Is-Asian-cuisine-the-new-darling-of-fast-casual?utm_source=NetWorld%20Alliance&utm_medium=email&utm_campaign=EMNAFCC12062013